Being a
Good Corporate
Citizen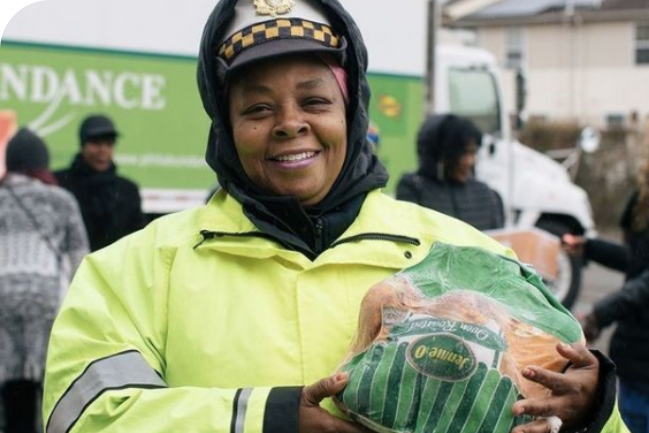 As a critical financial safety net for millions of people, we are driven to deliver for those who count on us. This focus on doing the right things guides our approach to environmental, social and governance (ESG) matters. In 2020, we continued to strengthen these efforts, including the development of a corporate sustainability strategic framework. Through these efforts and the passion of our employees, we're proud to help our communities thrive and deliver value for all our stakeholders.
We're dedicated to building stronger communities in the places where we live and work. Through partnerships with community organizations and the support of our employees, we help build strong and sustainable communities that give individuals and families - regardless of race, demographic or socioeconomic status - what they need to thrive. In 2020, we collaborated with our employees to donate $13 million to charitable causes, including nearly $1 million to provide COVID-19 relief and to promote social justice in our communities. As a result of our multifaceted efforts, Unum has been named to The Civic 50 three years in a row by global volunteer service organization Points of Light.
We maintain a sound governance framework rooted in a culture of integrity and responsiveness. It starts with a commitment at the top, with Board leadership and oversight guiding the actions of senior management and employees. Our Code of Conduct serves as our roadmap for doing the right thing every time for our stakeholders, while robust training and investments in risk management, privacy and data security ensure we continue to meet the needs of our customers and keep their trust. In recognition of this commitment, the Ethisphere Institute named Unum as one of the World's Most Ethical Companies.
A primary focus of ours is advocating for greater access to financial protection benefits for workers and their families. This issue continues to grow in significance as long-term governmental funding for public safety net initiatives continues to decline. We fund a variety of research initiatives, sponsor legislation to encourage greater benefit participation through employee auto-enrollment, provide disability benefits expertise to government agencies and participate in industry associations such as the American Council of Life Insurers. Through these and other engagement avenues, we educate policymakers on the importance of having financial protection benefits widely available and easy to enroll in.
Learn more in our 2020 Unum ESG report.