Supporting Our
Employees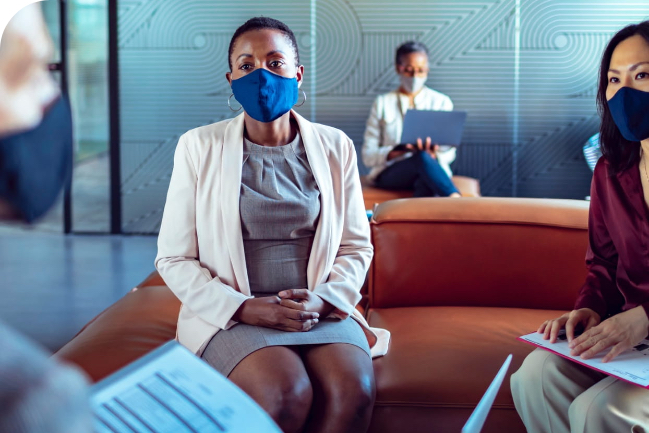 Our purpose of helping the working world thrive throughout life's moments extends to our people. At the heart of Unum's culture is a commitment to inclusion and the knowledge that the diversity of people and ideas makes us stronger and better equipped to meet the needs of our customers.
With the pandemic creating dramatic shifts in the workplace, Unum has embraced the opportunity to reimagine the future of work for our people. The cornerstone of our approach is an emphasis on workplace flexibility. Our experience during the pandemic validated the importance of remote work while recognizing that personal interactions in the office enhance networking and collaboration while fostering a sense of community. As we move forward, we are embracing this diversity of work experiences by allowing our people to work a hybrid schedule that includes in-office and remote work. Providing this flexibility allows for better work-life integration, enhances the wellbeing of our people and has a positive impact on recruitment and retention.
The importance of ensuring that every employee knows they matter and belong at Unum cannot be overstated. Our customers expect the best from us, and our ability to deliver depends on seeking to better understand others and value every voice. That's why we're dedicated to creating a culture of belonging in which our people see themselves in every aspect of our business. This collective responsibility includes dedicated employee networks focusing on key issues, teams working to integrate I&D into our business decisions and inclusion goals that align with our values and business purpose. We are also engaged on these issues outside our walls by speaking out against discrimination and investing more than $500,000 to support social justice initiatives in our communities.
Our purpose-led business depends on the commitment and engagement of our people. Creating a culture where people thrive starts with a dynamic and welcoming workplace that embraces diversity, fosters collaboration, and encourages employees to bring their authentic selves to work every day. Through our collection of workplace values known as We Are Unum, and our Code of Conduct, we define the expectations we have of our employees and outline our commitments to them in return. We also invest in the wellbeing of our people through benefits for every stage of life, career development programs to help them grow professionally and resources to maintain a healthy work-life balance.