To our shareholders,
customers and colleagues:
2020 was a year of unprecedented challenges and tragedy. We mourn the loss of nearly three million people from COVID-19, including over 560,000 Americans. More than a year into the pandemic, few individuals and families are untouched by this health crisis and the corresponding economic fallout.
Against this backdrop, helping the working world thrive throughout life's moments – our purpose at Unum – has never been more important. With families' financial futures under greater pressure, providing affordable access to vital benefits through the workplace is critical. The choices that employers made in 2020 are an important validation that especially in times of financial stress, the benefits and services we provide are highly valued.
Our 10,700 employees around the world have worked in extraordinary circumstances to ensure our customers are well cared for. I'm very proud of how our company and people responded to the pandemic: when the unexpected occurs, 38 million individuals and their families, across more than 180,000 companies know they can count on Unum.
Throughout this tumultuous year, Unum was able to successfully navigate many challenges and execute on our strategic priorities. Instead of pausing efforts to improve how we operate and deliver value to customers, we accelerated them. Our resulting strong and stable financial position – combined with the know-how of our team – gives us great confidence in our ability to serve more companies and customers and return to our pattern of growth as the environment improves.
"In the face of the pandemic, we leaned on our foundation – a clear purpose, a strong balance sheet, and, mostimportantly, incredible and committed employees – and never looked back."
Review of 2020 Performance
From the economy, interest rates, and credit markets to the health crisis, 2020 was a year of extraordinary volatility and disruption to global markets. At Unum, in keeping with protecting many in the workplace through life and disability insurance, we saw elevated mortality rates and short term disability claims volumes, while sales and premium growth were pressured by the unparalleled disruption to employers and the workplace. While these macro headwinds interrupted 14 years of growth in after-tax adjusted operating earnings per share, Unum still maintained its strong presence and profitability. With an incredible effort by our team, we saw stable premium income and produced $793 million of net income and more than $1 billion in after-tax adjusted operating earnings while improving the strength of our capital position compared to a year-ago.
We also continued to actively manage our business, deploying the cash flow from our core business to invest in digital capabilities for customers and distribution channels while pursuing opportunities to accelerate growth. At the same time, we managed the needs of our Closed Block of legacy businesses. While market and industry concerns about long term care (LTC) continued to weigh on our stock price, we are actively managing this and other parts of our Closed Block. In December 2020, we announced a transaction, which has now been completed, to reinsure most of our Closed Block individual disability insurance (Closed IDI Block) to a third party. Although Unum will continue to administer this block of business, the move freed up a significant amount of capital that enhances our financial flexibility and can be used to fund future growth.
2020 Performance by the Numbers
In a challenging environment, we continued to execute our strategy and maintain a solid financial base in 2020, including:
Net income of $793 million and after-tax adjusted operating income of $1.0 billion
Revenues of $13.2 billion, up 9.7% from 2019
Net income per share of $3.89 and after-tax adjusted operating income per share of $4.93
Return on equity (ROE) of 7.6% and adjusted ROE of 10.7% on a consolidated basis and adjusted operating ROE of 14.1% in our core operating segments
Book value per share of $53.37, up 8.7% from 2019, continuing our long-term commitment to shareholder equity growth
We also ended the year with improved capital metrics as compared to 2019, including:
Holding company cash of $1.5 billion, a $650 million increase year-over-year
Risk-based capital of approximately 365%, consistent with 2019 levels
Purpose-Led Business
An event like the pandemic puts a bright light on the importance of what we do. Our purpose speaks to the solemn obligation we have to the millions who depend on us as an integral part of their family's financial safety net. In 2020, we paid $7.6 billion in benefits – including more than $150 million related to COVID life claims to families. As our employees know, our support goes far beyond replacing a paycheck. Our rehabilitation and support services helped 435,000 people return to work with dignity and compassion. We also simplified the leave process for many workers by sorting through the multilayered landscape of government and company-sponsored leave benefits that grew more complex as a result of the pandemic.
Taking care of others is a top priority we believe can most effectively be met by reflecting the diversity of those we serve. Our unwavering commitment to fostering an inclusive and welcome work environment took on new urgency last year as society grappled with the reality of systemic racism. Working to end racial injustice and other forms of discrimination is a responsibility we all share. It's also about making investments for a more equitable future for everyone. One way we have worked to address these disparities is through the Unum Social Justice Fund, which we launched last year with $500,000 in seed money to support local community initiatives.
Additionally, the needs of our communities have only grown through the economic impact of the pandemic. As a leader in the business community and with deep roots in our hometowns, we feel a special obligation to help those around us prosper. As an example, when schools shifted to remote learning and food insecurity grew, we donated more than $420,000 to bridge the technology gap for students at home and fund food programs to feed those in need. In total, Unum donated $13 million in 2020 across our geographic footprint to enhancing educational opportunities, promote wellbeing and help our communities grow stronger.
Our purpose-led business is only possible with the commitment and engagement from our employees. Foundational to the strength of our people and culture is ensuring every individual who works at Unum can be their authentic selves and bring a diversity of thought and perspective to their jobs. We invest in creating a dynamic environment that rewards our people and helps them learn and grow to better serve our customers. The pride our people feel for what they do is driven not only by our service to customers and society, but by our steadfast commitment to doing the right thing. This year, for the first time, we are proud to have been recognized as one of the World's Most Ethical Companies by The Ethisphere Institute. This accolade recognizes our culture and is in addition to other recognition we have received from organizations such as Bloomberg, the Human Rights Campaign Foundation, the National Association for Female Executives and the Points of Light Foundation.

Successful Execution During a Tumultuous Year
Last year clearly demonstrated that we can deliver in a crisis. Customers new to Unum in 2020 found out what our first customers discovered more than 170 years ago: you can count on us when the unexpected occurs.
I'm very proud of how we adapted and evolved our business to meet the moment. In the face of the pandemic, we leaned on our foundation – a clear purpose, a strong balance sheet, and, most importantly, incredible and committed employees – and never looked back.
As the pandemic took hold, we prioritized safety and quickly moved 98% of our workforce remote— all while keeping the same level of support needed to help our customers. By adapting to this new way of working, as well as implementing new technologies, we were able to keep our employees safe and productive to provide an uninterrupted, high level of service that our customers expect.
One year later, most of our employees are still working partly or fully remote, which is reflective of the increased level of flexibility that we have embraced throughout the pandemic. I believe we will continue to see an adaptive model of working for our employees, even after the pandemic.
Along with increasing flexibility, Unum has focused on enhancing efficiency across our entire operation. Starting before the pandemic, we began a transformation to deliver on the heightened expectations of our customers. This effort, which spans our enterprise, allowed us to address the changes brought by the pandemic.
For example, last year our Colonial Life business saw a dramatic increase in digitally delivered enrollments. While Colonial Life has offered virtual enrollment options for over 10 years, we are now seeing more customers turning to virtual offerings, such as remote sessions with benefits advisors. To meet this demand, in the past year alone we increased the number of counselors who can enroll customers virtually from roughly 500 to over 2,000.
The company also made meaningful steps to manage our Closed IDI Block, by completing a transaction announced in late 2020 to reinsure a substantial portion of this block to a subsidiary of Global Atlantic through a coinsurance arrangement. As with our transformation efforts, this transaction will allow us to focus on growing our core business, create long-term value for our shareholders by optimizing our capital and balance sheet, and continue to invest in our people and new technologies that will prepare us for the future.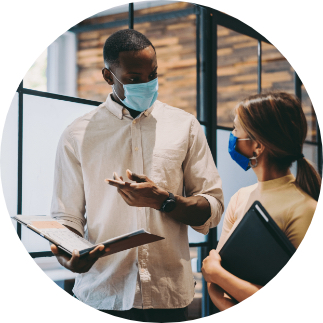 Looking Ahead with Optimism
In 2020, the pandemic put the importance of what we do into clear focus. For Unum and the world, 2021 will be a transition year—defined by a race between the continued spread of COVID-19 and the vaccination efforts and critical preventive measures.
The trends we see are reflective of this race. In the early days of 2021, the health effects of COVID19 remained significant with high mortality and high infection rates that impacted our benefits experience in multiple lines of business. The sharp spike in unemployment rates of spring 2020 has abated, but unemployment currently remains elevated relative to pre-COVID levels and continues to present a headwind to our growth rates. However, with the rollout of vaccines, the focus on protecting the most vulnerable will come through in our results as the year goes on. Over 85% of our COVID life claims were individuals over 50, who now have broad access to or have already been vaccinated.
The pandemic has put an increasing spotlight on the importance of employee benefits as a source of financial protection. It's also increased the bond between employers and employees, with 75% of employees responding that they trust their employer to do what is right. While the physical workplace may have evolved as a result of the pandemic, the relationship between employers and employees and the need for our products and services have only heightened. And how we interact with those customers has become increasingly digital. The investments we've made in this space have allowed us to keep pace, driving efficiency, accuracy and satisfaction.
By putting our customers first and successfully managing our business, I am confident that Unum is well-positioned to return to our growth path as the world recovers. Our capital position provides a strong foundation. Based on the trends we are seeing today, we expect a favorable impact on our results beginning in the second half of 2021 and a return to more historic levels of growth and profitability in 2022.
As we execute on this focused business strategy, I am excited about the future of the company. We thank you for your continued support.